Home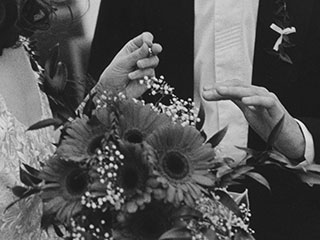 Your wedding day, that is the special day to remember for life. Let us share our musical experience with you to help you make the day remarkable.
The solicitous choice of music must be part of every wedding ceremony. Somebody prefers pop-music, somebody prefers rock-and-roll, but we have a strong feeling that such important ocassion shoul be accompanied by classical music. Listen to our audio samples to find out which tunes are best for you!
Our artists will prepare a special digest of compositions to satisfy not only you but also your parents, friends and guests. Whether you are looking for a music for the ceremony itself, for the dinner menu or for the relaxation afterwards, we will be happy to prepare the most suitable selection for you.
Extraordinary present for the silver, golden, or diamond wedding
Would you like to give your parents or friends an uncommon present for their silver, golden, or diamond wedding? Listening to the most beautiful classical melodies, your parents will feel like born-again, recalling the most beautiful memories. Listen the audio samples to find out your parents' favorite one!
Thank you a lot for such a wonderful performance! If I could choose two things that I loved the most of all it was the ensemble and the flowers. Your music made the wedding even more special, it was truly a must. Just like I always dreamed, perfect music!!! 😘 – Caroline Martins